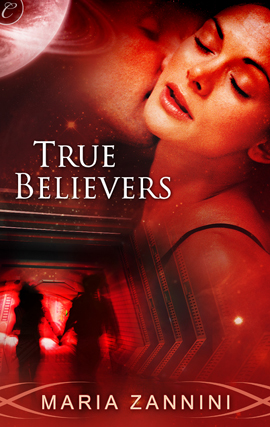 One thing that I truly miss from my book tour is bragging about other people's books. It always put a smile on my face when someone would comment on my blog saying "That book looks interesting" before they would go to the blog of my wonderful hostess's. So, because of that, I decided that every Friday, I will let you all know about a book that I think is wonderful.
This Friday's book is "True Believers" by Maria Zannini.
Something is killing off immortals, one by one.
Taelen Jessit is an alien emissary on a mission sanctioned by the U.S. government to search for ancient gods. His hunt leads him to a dig headed by archaeologist Rachel Cruz. When his military entourage forces Rachel's team out of the cave they were exploring, a flash flood hits the riverbed and threatens to tear them through the ravine.
In the aftermath of the flood, Taelen witnesses the incredible healing of Rachel's broken ankle and believes his gods have blessed her. He is inexplicably drawn to her, and she to him.
What Taelen doesn't know is that Rachel is Nephilim—a descendant of the gods his people worship—masquerading as a human to find the god-killer and destroy it. Rachel needs help to bring down the tech that is manipulating the Earth's magnetosphere and frying her people alive. She's given Taelen her heart, but can she trust him with her secret?

Buy it Here

.
Normally, I don't read sci-fi, but the cover of this book inspired me to read it (I know, I know, they say not to judge a book by its cover). Well, let me tell you, the cover doesn't do the book any justice. The story is of battle, secrets, lovers, and sacrifice. There really isn't a cover good enough for this wonderful story. It has all the classic elements of a good book and at the core of it, it has wonderful characters that pull the story forward. There wasn't a dull moment in the whole book! There were some characters I absolutely fell in love with, they became real to me, and once something bad happened to those characters, I was ready to scream. The instant I finished reading it, I sent the wonderful Maria an e-mail demanding she write me a sequel. I expected her to say "Listen crazy woman, you can't get what you want" when instead she simply said "Okay". So there you go, a book that I deeply enjoyed. I hope some of you will read and enjoy this book too and then we will all sit down and wait patiently for that wonderful sequel.
So what are you guys doing this weekend? Me, I plan to finish writing my paranormal romance with erotic elements novella (I have half a chapter and an epilogue left to write) and finish reading that Nora Robert's novel that just doesn't seem to end.